Kuya Daniel's Wish 107.5 is a Mouthpiece to Social Awareness — Charity Groups
"You are a mouthpiece to social awareness."
This is how charitable institutions describe the famous all-hits radio station after granting more than two million pesos on its third installment of Wish Music Awards in January, 2018.
Meritxell Children's World Foundation's Leah Lagmay said Wish Music Awards helps in the promotion of Original Pilipino Music (OPM) and at the same time also becomes a way to raise social awareness among Filipinos in helping the less fortunate individuals.
"You're a means by which we can spread the word to so many Filipinos that if we all come together, we can definitely do a lot of things for those who are in need," Ms. Lagmay said. "Wish 107.5 merges music and charitable works."
Conceptualized in 2016, Wish Music Awards distinguishes itself from other music-focused award-giving groups as it incorporates the concept of wish granting.
Winners of major categories are given the chance to dole out cash donations to their respective beneficiaries.
Thankful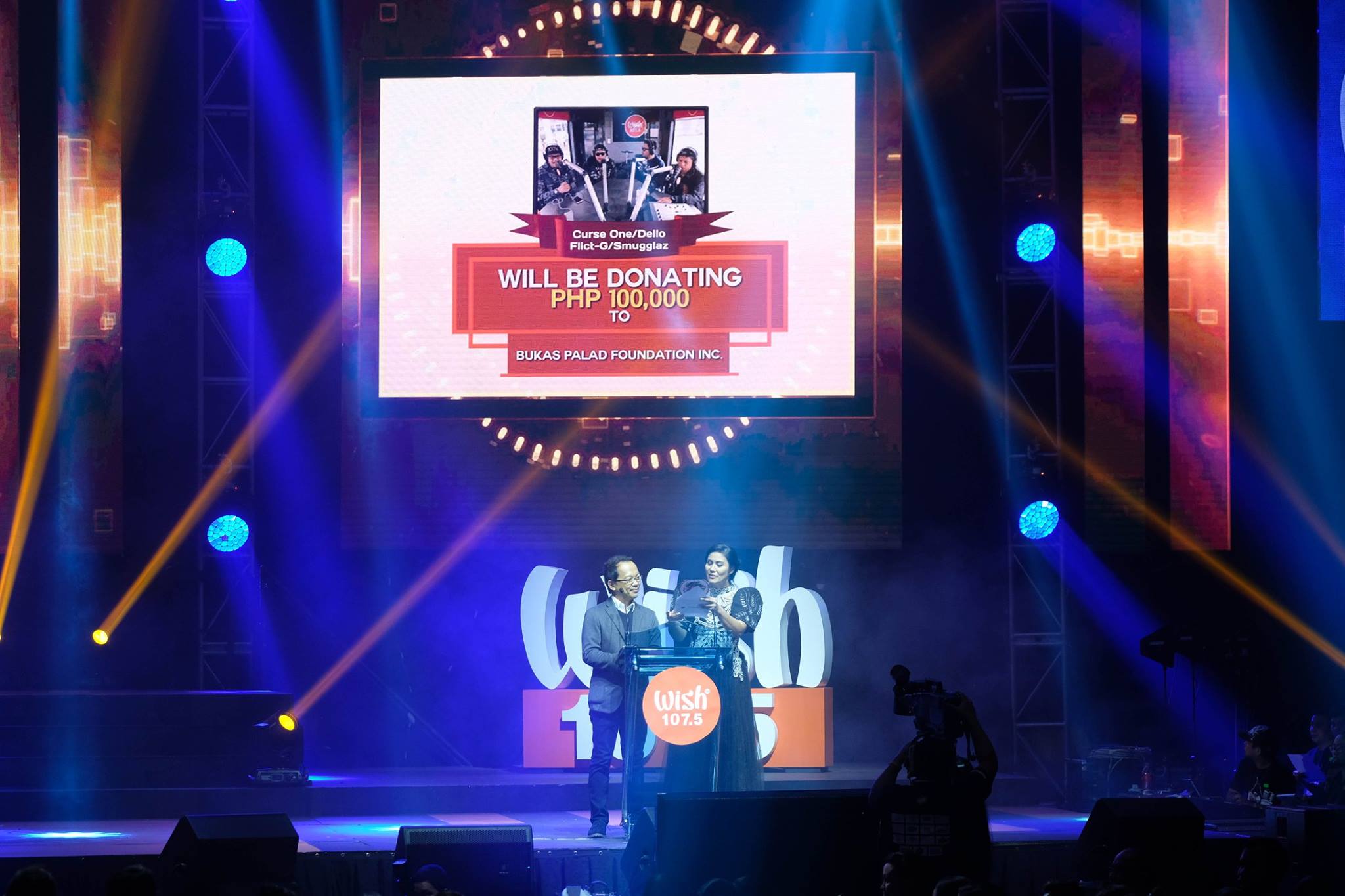 Save the Children Philippines Foundation, one of the partner-charities during the awards night, received the highest cash award of P400,000 (US$8,000).
"Hopefully, more organizations will be given chance to take part on events like this. To the artist also who chose us, thank you very much," said Rosemarie Garcia, representative of Save the Children Philippines.
Save the Children was chosen by winning artists Extrapolation (Wish Promising Artist of the Year), KZ Tandingan (Wish Urban Song of the Year for "Labo"), Michael Pangilinan (Wishclusive R&B Performance of the Year for "Tayo Na Lang"), and Moira Dela Torre (Wish Contemporary Folk Performance of the Year for "Malaya").
Moreover, the Bukas Palad Foundation Inc. was the partner-beneficiary of indie folk band Ben&Ben (Wish Contemporary Folk Song of the Year and Wish Group/Duo of the Year) and rap music artists Curse One, Smugglaz, Dello, Flict-G (Wishclusive Collaboration of the Year for the song "Nakakamiss"). The foundation received a total cash donation of P300,000 (US$6,000).
"I am so proud to be a Filipino. It's very inclusive and I really felt that we are really united for such acts like this," said Jane Roble of Bukas Palad.
Other charitable institutions like the Cancervants Philippines, Sto. Nino Home for the Aged, Meritxell Children's World Foundation received P200,000 (US$4,000) each.
Teach for the Philippines, CRIBS Foundations, Child Haus, Paws Philippines, Inspire Metro, Visayan Forum Antipolo also received P100,000 (US$2,000) each.
Meanwhile, the man behind the innovations in Wish 107.5, BMPI President and CEO Dr. Daniel Razon promised that the station will continue the charitable works it started. BMPI stands for Breakthrough and Milestones Productions International.
"One of those things that we had in mind when we started Wish 107.5 is how we are going to make the wishes come true; but at least with these small things that we've started, I think in some way, we're able to become instruments in granting the small wishes of our fellow men," said the veteran broadcast journalist.
Kuya Daniel Razon also added that only Wish Music Awards uses recognition to do good to those that are in need.
Written by John Kenneth Jaramilla