Kuya Daniel Reviews ShiftCam iPhone Case
Kuya Daniel Razon reviewed the ShiftCam iPhone case he is using for his iPhone 7 Plus, praising the excellent and fine lens of the smartphone case.
The veteran broadcast journalist, among his co-hosts in Good Morning Kuya, create their own vlog for the morning magazine show being aired by UNTV. He has also recently started his own account in Instagram as @kdr708 where he posts his other vlog.
"It's not third-party… if you'll observe, the quality of the lens is fine", said Kuya Daniel.
Kuya Daniel explained that ShiftCam is a 6-in-1 lens case that lets users take high-quality shot in the most comprehensive, convenient and portable way.
ShiftCam iPhone case for iPhone 7 Plus offers more tele reach, macro capability and a fisheye lens to the 7 Plus camera.
The current prototype design includes the following three lens pairs that slide over the iPhone's dual-camera lenses:
120-degree wide-angle / 2X telephoto
10X macro / 20X macro
180-degree fisheye lens / 2X telephoto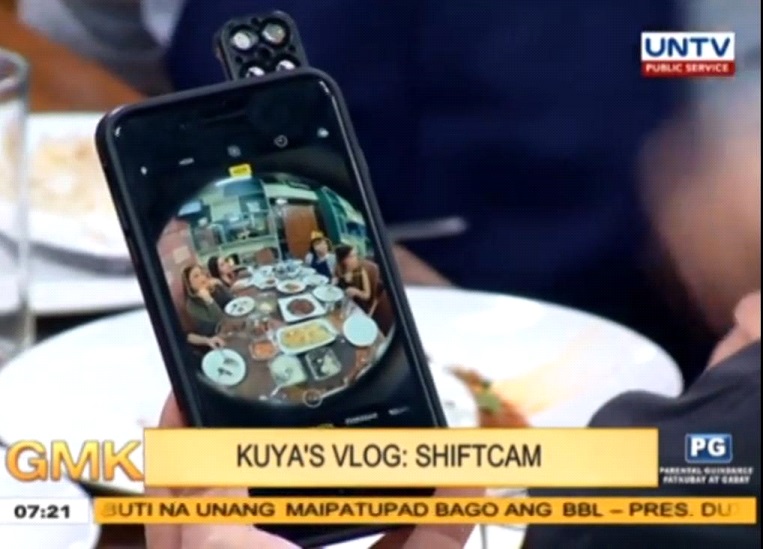 The ShiftCam comes with two tele lenses: one is combined with the wide-angle, and the other one comes in a pair with the fisheye lens.
Having two of them means users don't have to change the position of the ShiftCam lens slider time after time. The two lenses offer an identical focal length multiplier and offer a great way of getting closer to the subject when shooting with an iPhone.
Currently available on online shopping sites for Php 3,500.00, the smartphone camera lens has a protective case and lens module that slides into a guide rail on the case. The module can be removed if it is not in use to keep them in a safer place.
On its website, ShiftCam said that its case also comes with 10X and 20X macro lenses which are located next to each other on the lens slider of the case. The 10X uses the iPhone's wide-angle lens while the 20x is in front of the tele lens. Both lenses are capable of producing good and suitable sharpness in the focal plane and very useful levels of magnification.
Written by: Maikka Dungog