UNTV's News and Rescue Team: A Decade Of Saving Lives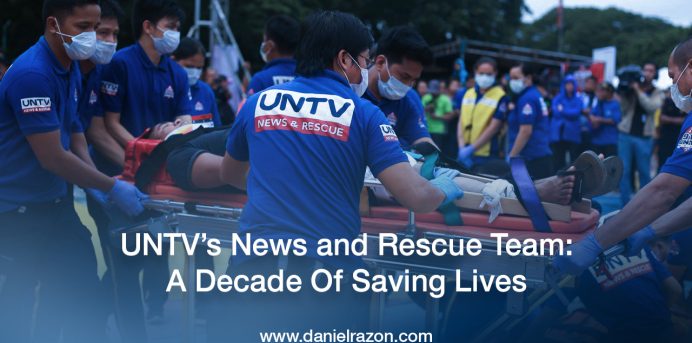 12 2020 Aug
This July, the UNTV News and Rescue Team reaches its 10th year of rescuing and saving lives while giving accurate news reports.
The said news and rescue advocacy is an initiative of Mr. Public Service, Kuya Daniel Razon. The team has been trained to prioritize saving lives over competing with other networks to be the first to cover emergencies and crises.

Launched in July 2010, Tulong Muna Bago Balita (Rescue First, Report Later) is now considered a milestone in Philippine broadcasting history.
How Tulong Muna Bago Balita Started
Kuya Daniel's goal of breaking the practice of sensationalizing crisis situations, emergencies, and natural disasters, got the program started. He believes that getting A scoop, or an exclusive story, loses its significance if a life, which could have been saved, is lost due the absence of rescuers.
Tulong Muna Bago Balita was formally introduced to the public after the first batch of correspondents has completed training with the Search and Rescue Unit Foundation, Inc. (SARUF), a recognized army rescue unit in the country.
Months before the official launch of Tulong Muna Bago Balita, the UNTV News Team underwent an emergency response training (ERT) course provided by SARUF. Because of the course, UNTV correspondents turned into certified rescuers capable of providing first-aid in various accidents, from to technical search to rescue operations. 
READ: MMDA's Training for 10,000 Staff Inspired by UNTV's 'Tulong Muna Bago Balita' – Orbos
After the ERT's success, the news team was then renamed UNTV News and Rescue Team and became the first batch of Philippine broadcast-journalists equipped with news coverage and rescue operation skills.
To ensure that the National Capital Region residents would not only be the ones to benefit from the news and rescue service, Kuya Daniel gave instructions to train all UNTV personnel who are based in Philippine provinces, as well as abroad.
The UNTV News and Rescue Team Today
Today, as it celebrates its first decade of service, the News and Rescue Team has rescued thousands of lives. And even though Kuya Daniel has reduced the team's operation due to the present COVID-19 pandemic, the team continues to provide emergency response to fellowmen in need.
With countless livelihoods affected by the pandemic, many people rely on relief goods to sustain their needs. UNTV News and Rescue teams all over the world are now working together with different groups, especially with the Members Church of God International, in distributing food and medical assistance.
As what Kuya Daniel said during the 6th Anniversary celebration of UNTV News and Rescue in 2016, "Our fellowmen are more important than anything else, more than being the first in getting and delivering news."
As UNTV News and Rescue marks its tenth year of saving lives, it continues to hold on to the same advocacy, and will continue to hold on in the years to come, with God's help.
Written by Glaicee Joy Paner