UNTV's Bid to Go Digital Geared for Intensified Public Service, Quality Programming
Quezon City, Philippines (February 17, 2017) – Philippines' television broadcast companies should fully switch to digital TV from the current analog broadcast by 2023, the new target set by the Department of Information and Communications Technology (DICT).
Even before the Digital TV Summit organized by DICT, UNTV News and Rescue has already been preparing for the digital migration.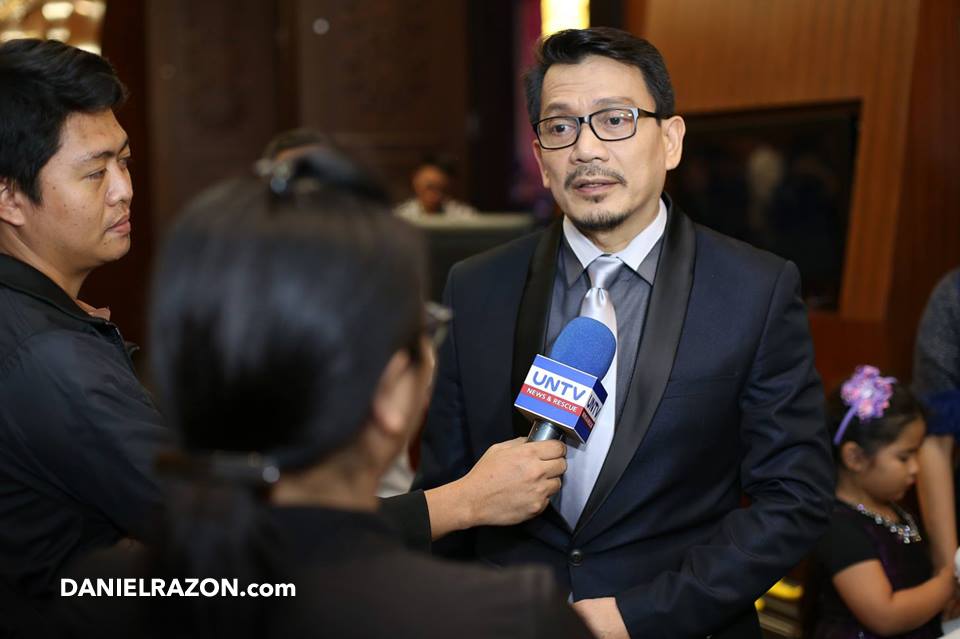 As early as 2013, Breakthrough and Milestones Productions International (BMPI) Chairman and CEO Kuya Daniel S. Razon disclosed the network's ongoing transition from analog to digital broadcast. BMPI operates the UNTV network.
"Anytime na magkakaroon na ng transition, ng full transition from analog to digital (broadcast) ay reading-ready na ang UNTV. That is also one of the things that we are now trying to augment na rin sa mga equipment," Razon said in an interview.
[Anytime that there will be a full transition from analog to digital (broadcast), UNTV is very much ready. That is also one of the things that we are trying to augment in our equipment.]
So nag-a-upgrade na rin tayo ng lahat ng mga studio facilities, pati yung TOC (Technical Operations Center) natin para maging talagang compatible na doon sa ating ginagawang digitalization," the veteran broadcast journalist added.
[So we are already upgrading our studio facilities, including our TOC (Technical Operations Center) to become compatible with our ongoing digitalization.]
UNTV had already installed a digital-ready transmitter and state-of-the-art broadcast tower and antenna.
Shift to Digital TV Ongoing
Data from DICT showed that there are more than 14 million households in the country that rely on free-to-air analog TV broadcast. They just need to have set top boxes to receive the digital signal from the TV station.
Digital television offers multi-channel capability and better picture and sound quality, delivered free-to-air using a conventional aerial antenna. It eliminates ghosting and snowy pictures which are common issues in analog TV broadcast.
"UNTV is honored to be part of this Digital TV Summit. And as we all know, UNTV is already operating in digital," said UNTV representative Mr. Bong Etorma.
The network is also beefing up its content and channel line-up. In December 2016, UNTV launched an upcoming educational channel for kids, dubbed as KNC or Kids Nation Channel. KNC is set to occupy 'UNTV-2' slot in digital TV once on-air.
In 2014, UNTV launched its ISDB-T test broadcast on UHF 38 (617143 frequency) along with its simulcast analog broadcast in UHF 37.
UNTV's digital channels can now be received through a set top box in Mega Manila which includes the National Capital Region (NCR) and nearby provinces including Rizal, Bulacan, Pampanga, Cavite and Laguna.
New TV sets and a few mobile phones sold in the market with built-in DTV tuners, labelled as ISDB-T-ready, can directly tune-in to digital broadcasts.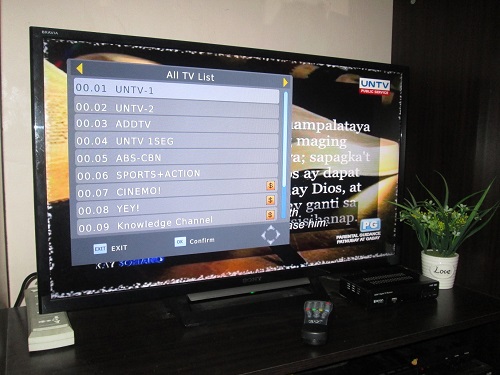 Currently, it has two standard definition (SD) digital channels – UNTV-1, UNTV-2 and a high-definition (HD) channel called ADDTV or the Ang Dating Daan Television.
ADDTV airs a collection of ADD's popular segment Itanong Mo Kay Soriano, Biblia ang Sasagot (Ask Soriano, the Bible will Answer) and music videos from A Song of Praise (ASOP) Music Festival.
Ang Dating Daan is currently the longest-running religious program in the Philippines and UNTV's major blocktimer. The program produced by Members Church of God International (MCGI) is hosted by international televangelist, Bro. Eliseo F. Soriano, MCGI's Overall Servant.
The public service channel is also expected to launch its DTTB service in major provinces anytime soon. This will bring UNTV closer to Filipinos as well as widen the coverage of MCGI programs as part of its intensified evangelization efforts.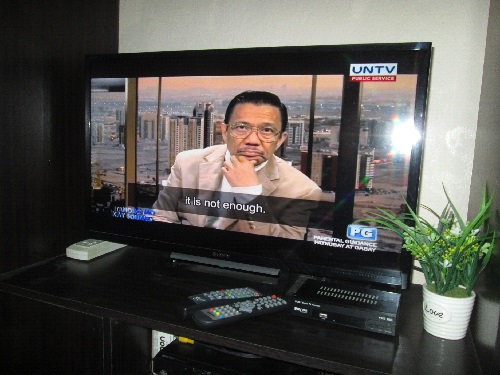 Disaster Preparedness
In 2013, the Philippines has adopted Japan's Integrated Services Digital Broadcasting – Terrestrial (ISDB-T) as its standard in the delivery of DTTB.
The Japanese technology has built-in Emergency Warning Broadcast System (EWBS) feature which complements the risk-reduction efforts of the government.
In emergency cases, the government through EWBS can control the broadcasts of every TV station to transmit warnings to the public in times of disasters such as earthquakes, typhoons and other calamities along with advisories on evacuation, food provision and medical assistance.
"There are some government officials and perhaps broadcasting officials who will be telling the people, on say, forthcoming calamities or disasters, so madali na ang coordination [so coordination is easier]," said DICT Secretary Rodolfo A. Salalima.
"Perhaps ang hahawak niyan ay NDRRMC. so nasa kanilang control, pagka mayroong emergency, i-switch on lang niya yun, lahat ng television wala, hihinto 'yun. [Perhaps the NDRRMC would handle it. They will have the control. In case of an emergency, they just switch it on and all television broadcasts will stop]," said NTC Deputy Commissioner Edgardo Cabarios.
"The bottomline is that the government will have the facility now to deliver this kind of urgent and pressing information to the people," said Engineer James Rodney P. Santiago, DICT Consultant on the DTTB Migration Plan.
ISDB-T also supports Datacasting and Broadcast Markup Language (BML) features which allow the TV station to show public service announcements and other relevant information.
The Japanese standard was also chosen by around 20 countries including Brazil, Argentina and Bolivia.
Digital TV Summit
Last February 14 to 15 this year, UNTV News and Rescue joined the Digital TV Summit organized by the Department of Information and Communications Technology (DICT) at the Novotel Manila Araneta Center in Cubao, Quezon City.
The DICT holds a ceremonial digital switch on led by DICT Secretary Rodolfo Salalima, officials from the National Telecommunications Commission (NTC) and representatives from the country's major broadcast networks.
It symbolizes the government's initiative to urge television networks in the Philippines to migrate from analog to digital terrestrial television broadcast (DTTB).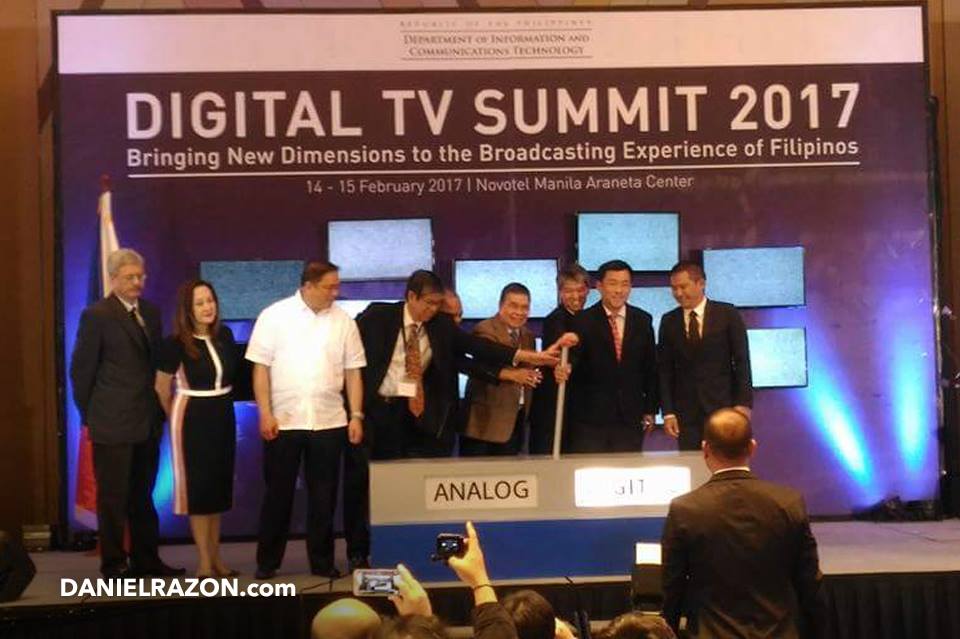 In the same event, steps for the migration to digital TV or the DTTB Migration Plan was also launched. It consists of comprehensive policies and regulations as well as technical and fiscal considerations necessary for the country's migration to digital TV broadcasting.
The government said it wants full migration to DTTB and completely phase out analog television by 2023.
"We are targeting four to six years of simulcast before the analog shutoff…switch off," said Engineer George P. Tardio, chief of the National Information and Communications Technology (ICT) Planning Division of the DICT.
Under the migration plan, the government will allow for the simultaneous transmission of TV programs on analog and digital systems until 95 percent of households have adapted to the latter by the time analog TV is switched off. The remaining 5 percent of households can avail themselves of government financial assistance.
"Technology is fast changing and it is changing for the better," Sec. Salalima said during the sidelines of the Digital TV Summit.
Major Investment Needed
The country's major broadcasters have committed to the migration plan.
Digital transition requires a significant investment on the part of the broadcast networks and building one transmitter site requires major capital expenditure, aside from annual operating costs.
"At first, we had concerns about the capacity of smaller broadcasters to shift to digital TV. That's a big investment. The migration plan should give them enough time to program the investment needed," Mr. Cabarios disclosed said in a mix of English and Filipino.
"Broadcasters may need to invest around Php 50 million to adopt the technology," he added.
Written by: Jayson E. Moy