MMDA's Training for 10,000 Staff Inspired by UNTV's 'Tulong Muna Bago Balita' – Orbos
The Metropolitan Manila Development Authority (MMDA) may soon provide emergency response and rescue training to the agency's 10,000 workforce, said the agency's officer-in-charge Tim Orbos.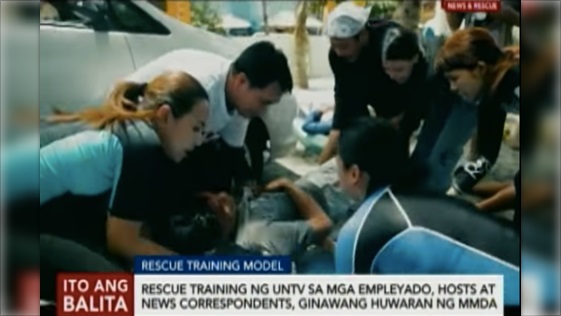 Orbos expressed that he only got interested in UNTV's rescue training for all employees, which included hosts and news correspondents, after the MMDA's OIC's guesting at Get It Straight with Daniel Razon program.
"I got the idea from you (UNTV News and Rescue) when [Kuya] Daniel had me as guest [on Get It Straight]," Orbos said in vernacular in an interview with Why News.
Orbos said Kuya's project is not only inspiring but worth emulating by the government agency, like the MMDA, which is expected to be knowledgeable of rescue management.
He further said it is important in what police call the 'force multiplier.' "Since we have the [obligation] to rescue, all of us at MMDA – including all employees and myself – should have basic knowledge about rescue management."
In September this year, employees were told that they "should all be first responders and know how to deal with emergency situations and incidents."
(source: //www.mmda.gov.ph/index.php/41-news/news-2016/2201-mmda-employees-to-undergo-emergency-response-training)
UNTV-BMPI Chairman and CEO Kuya Daniel Razon supported this move by the MMDA.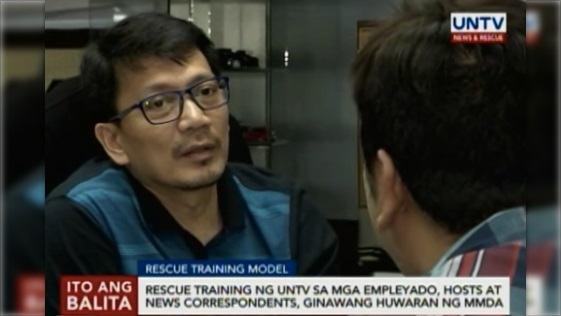 "That's very commendable because you can see that they are pro-active, a thing that [other] government agencies can follow, not only MMDA but eventually [even] companies," stressed the veteran broadcast journalist who is also known as "Mr. Public Service."
Razon also assured that they will not cease to provide rescue trainings for the staff of UNTV. At the station, all staff, from reporters to receptionists and janitors, receive the rescue trainings.
UNTV previuously held a higher-level rescue training for its reporters. UNTV News and Rescue is also the only media entity in the country that prioritizes helping the needy over getting ahead in news.
Written by: Alice Endo