PUP Honors Daniel Razon with an award of Doctor of Humanities, Honoris Causa
Before its more than 6,000 graduates, the Polytechnic University of the Philippines conferred on Daniel Razon the doctorate degree in Humanities, Honoris Causa, during its 2011 Commencement Exercises held last Friday (May 6) at the World Trade Center in Pasay City, Philippines.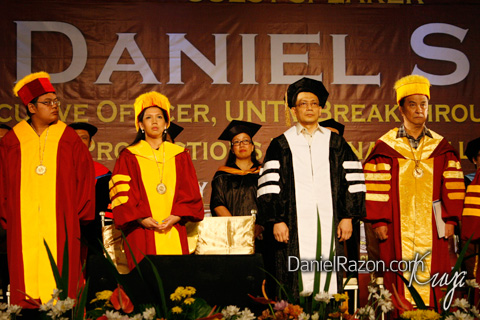 The university gave UNTV-BMPI Chairman and CEO, Daniel Razon the highest academic award as commencement speaker for his exemplary works as a media man and for his philanthropic works.
According to PUP President Dr. Dante Guevarra, the university has carefully chosen the recipient of honor, saying, the PUP Board of Regents considered Razon's humanitarian efforts and advocacy for change, which he carries out through television network UNTV.
"We chose Kuya Daniel as guest speaker and honored him a Doctor of Humanities, honoris causa, not only because of his excellence in broadcast journalism but also for his charities to the Filipino citizens," said Dr. Guevarra in the vernacular during an interview with reporters after the graduation ceremony.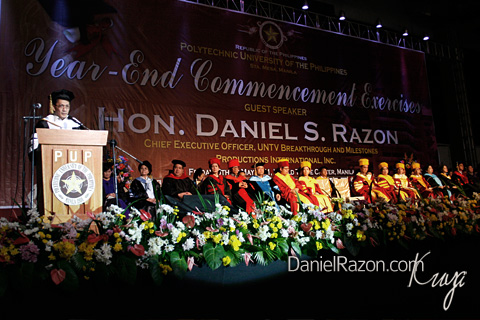 "He provides a lot of help to victims of various accidents and to the daily needs of the people through his social services such as free rides, free education, medical assistance and free medicine for the sick, as well as his consistent blood donation activities. Also, for his expertise in various fields," the PUP president explained.
In his acceptance speech, the awardee thanked the university and its Board of Regents for the recognition, yet emphasized that he is only a humble instrument and that the glory belongs to God. Now counted among those doctorate awardees, Dr. Razon also said that he looks forward to further what he has started.
For the graduates, the broadcast journalist hopes that they may be awakened by the good deeds that should be done and how to remain walking in the right path.
The Doctor of Humanities, Honoris Causa, is only given to a person who made great contributions to his chosen profession and to people through charitable works. Previous recipients of the award include former Philippine Vice-President Noli de Castro and ABS-CBN Chairman and CEO Eugenio Lopez III. (Words by Hazel Chavez-David; Editing by Jane Abao)