Kuya Daniel's Pilipino Pancit Bihon Guisado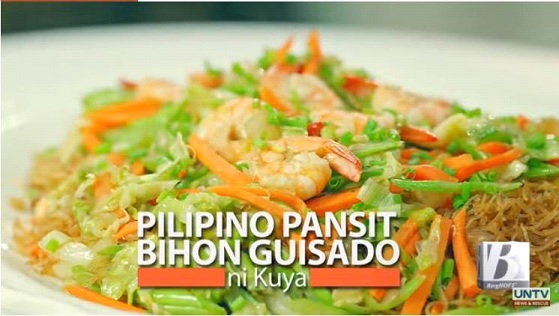 Pancit Bihon is typically a food for all occasions in the Philippines. Whether someone is celebrating a special day or it is just a typical merienda time of the day, Pancit Bihon will surely be one of the choices.
The Chinese migrants far back from the coming of the Spaniards handed down the dish from generations to generations. Today, with various types of noodle dishes related to Pancit, it is not surprising if you have cooked or ate the following variants: Pancit Canton, Lomi, Pancit Habhab, Sotanghon and more.
For his part, Mr. Public Service Kuya Daniel Razon featured in the segment "Cook Eat Right" of Good Morning Kuya his own version of the famous noodle dish in the country – Pancit Bihon Guisado.
Pancit Bihon Guisado Ingredients
Bihon
Garlic
Onion
Carrots
Cabbage
Baguio Beans
Pork Strips (Liempo)
Shrimps
Soy Sauce
Procedure:
Heat oil in a pan.
Sauté onion and then the garlic.
Put the pork strips.
Add soy sauce to taste.
Add the pork stock used for extra flavor.
Add the Bihon.
Heat oil in a separate pan.
Sauté onion and then the garlic.
Put the shrimps.
Add the vegetables.
Mix the vegetables together with the Bihon.
Serve and enjoy!

Some Cooking Tips from Kuya Daniel
Kuya Daniel suggested one of his techniques in sautéing. He said that he adds the onion first before garlic in order to prevent it from burning. Also, burnt garlic may release an odd taste to the food. By stirring the onion first and adding the garlic after, the dish maintains its natural combination of flavors.
Kuya said, "we always check the label of our food yet we forgot to check the label in which we will prepare them."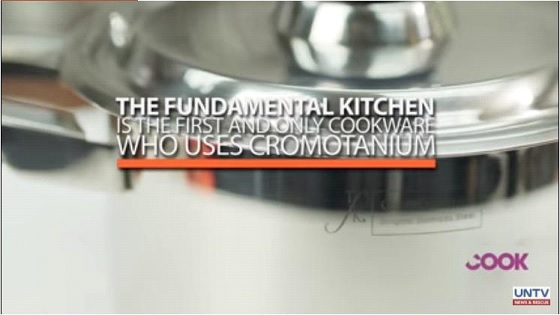 In cooking Pancit Bihon Guisado, the veteran broadcast journalist said that he uses The Fundamental Kitchen's cookware brand, BergHOFF, the only kitchenware that uses eco-friendly metal which can preserve the natural taste of the food being cooked.
Written by: Ravie Harcelen Magalang