Kuya Daniel's Danpicao and Salpicado Filipino style
In Kuya Dan's kitchen, no one who enters ever leaves with an empty stomach. In this Good Morning Kuya segment of "What's for Breakfast?", Kuya Daniel and Diego Castro delve into two different styles of a Filipino favorite — Salpicao, with Kuya's twist, and Salpicado (Salpicao) the Filipino Style.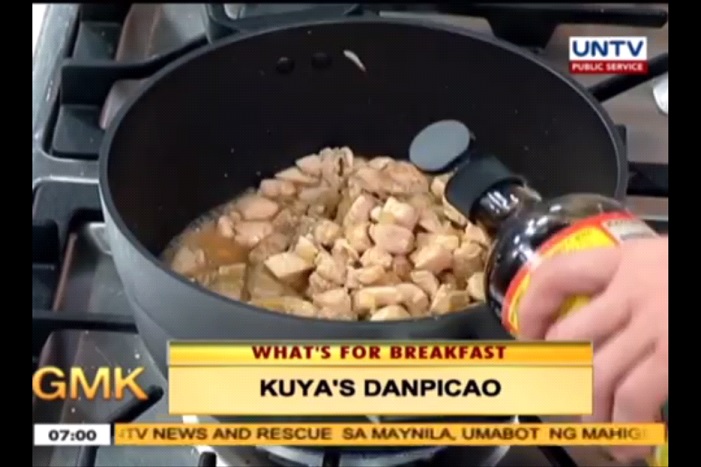 Salpicao is a Spanish-inspired Filipino dish composed of cubed beef sirloin, minced garlic, Worcestershire sauce, olive oil, and liquid seasoning. But of course, we're not in Kuya's kitchen if we don't make it the Kuya Daniel way!
"It's a very simple dish," Kuya said, granting that you follow his instructions on how to make a very delicious meal.
Salpicao Cooked with Kuya's twist — the Danpicao!
Here are the ingredients to the delicious meal:
Chicken Breasts
Onion
Garlic
Soy Sauce
Apple Cider
Salt
Pepper
Cayenne
Brown Sugar
Oil
Instructions:
Start by mixing garlic onto an already oiled pan.
Add the onion, then immediately after, add Bragg's Amino
Acid onto the onion.
Put the chicken to cook.
Add a bit of apple cider vinegar.
Add cayenne pepper to the pan – Kuya puts a lot of cayenne
pepper as he loves spice.
Then you mix and cook.
Add more Braggs Amino Acid for the chicken – and to add a bit of saltiness to the dish itself.
Add brown sugar.
Then you mix again and let cook.
Grab a separate pan. This is the pan we will use to make the Salpicao, or rather, the Danpicao.
Heat oil onto the pan.
Add garlic.
Fry the chicken from the first pan until cooked.
Add your Danpicao onto a plate and put two chilis on top of your Danpicao; not just for spice, as Kuya stated, but also for the extra "wow factor."
And of course, it isn't a full-course Filipino meal without rice. Using your left-over oil and garlic from your Danpicao, add rice to make your own "sinangag," or fried rice.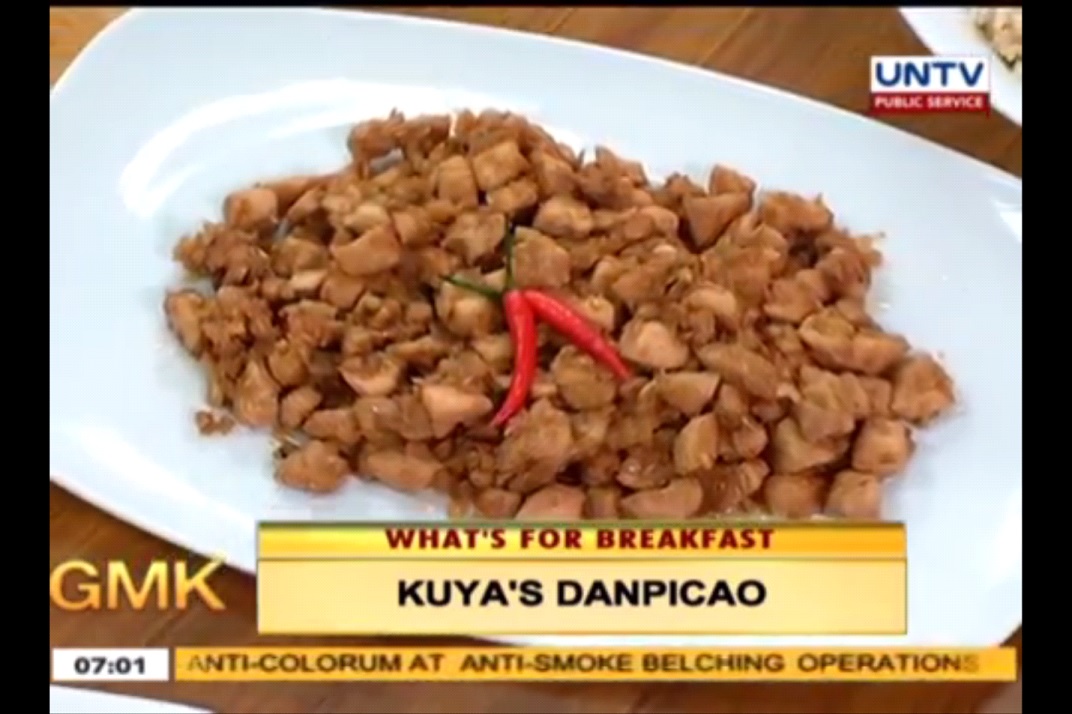 But this segment of "What's for Breakfast?" isn't over just yet. More guests on the show means more ulam or viand need to be served.
Salpicado (Salpicao) Filipino Style by Filipino Actor, Diego Castro!
Ingredients:
Beef Tenderloin
Garlic
Onion
Salt
Pepper
Paprika
Olive Oil
Tomatoes
Salted Egg
Soy Sauce
How to Cook Salpicao
For the Salpicado sauce:
Add olive oil onto the pan
Put onion and garlic – in that order because garlic burns fast.
Add salt and add a dash more garlic.
Add fresh tomatoes onto the mix.
Put more onions.
Add more olive oil onto the mixture.
Add more salt and pepper to taste.
Let the mixture boil until the tomatoes thaw, gradually mixing the sauce until the sauce starts to become broth-y – continuously mix in order to avoid any burnt ingredients.
Once done, we move on to cooking the beef.
On a new pan, heat with oil and begin with onion and minced garlic once more.
Season with salt, cayenne pepper, and black pepper.
Add more olive oil.
When the pan is heated enough, add the beef tenderloin.
Sauté the beef and season to taste with salt and pepper.
Add the sauce from the earlier pan to the cooked beef.
Mix, mix, mix.
Add a dash of soy sauce.
Mix some more.
Leave the pan covered until the meat is cooked — you can tell that the dish is cooked when the broth from the sauce has completely evaporated.
On to the plate, we will add red salted egg and left-over Salpicado sauce for wow factor.
For more healthy and delicious Filipino recipes, don't miss the GMK segment, "What's for Breakfast?"
Written by: Lalluh Adalla