Beirut Explosion: Serbisyong Bayanihan Responds to a Distressed OFW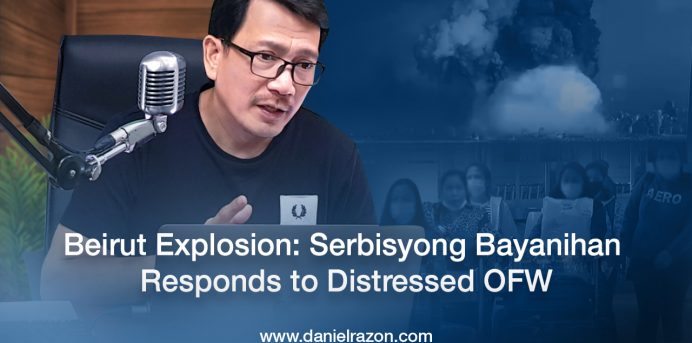 29 2020 Aug
Just hours after Beirut was rocked by a devastating explosion, Serbisyong Bayanihan responded to a "distress call" from an overseas Filipino worker (OFW) near the site who experienced firsthand the tragedy on August 5.
"Shocked pa rin sa nangyari!," (I'm still shocked with what happened!) the 41-year-old OFW Aileen Biyong Hilig said when Kuya Daniel Razon made an inquiry about her condition.
The world was shocked as warehouses containing 2,750 tons of ammonium nitrate at the Port of Beirut in Lebanon exploded. This incident generated a deadly shockwave that killed at least 154. The horrendous catastrophe that rocked the city, equivalent to a 3.3 magnitude earthquake, also injured more than 5,000 and left 300,000 homeless as of this writing.
Aileen, who was at the house of her employer in Beirut, Lebanon, recalled the incident. She said that there were two explosions that took place.
"Ramdam na ramdam po namin. Akala ko po talaga parang helicopter na dumaan na sobrang bilis, sobrang baba. Tapos po lumindol na parang nakasakay ka sa duyan," Hilig described the incident.
We really felt the explosion. During the first explosion, I thought there was a helicopter flying swiftly at low altitude. Then, the ground shook as though we were on a swing.        
She then rushed to the bathroom to pray for protection. But even there she felt she was being tossed because of tremendous force. Luckily, she suffered no injuries as she was able to stay away from windows and areas with glasses, which were shattered because of the blastwave.
The domestic worker was one of the hundreds of Filipinos who witnessed the tragedy. As of this writing, four of these Pinoys died and one is still missing.
The tragedy prompted Hilig to plead for repatriation at the earliest possible time. In an interview with Kuya Daniel, she revealed that her employment contract ends this October, but she implored to join Pinoys who are bound to return to the country because of the emotional trauma and sleepless nights that she suffered after the incident.
The disaster took place at a time when Lebanon was reeling from economic and health crises brought about by the COVID-19 pandemic.
DOLE and KDR Respond
In response to Hilig's plea, the Department of Labor and Employment (DOLE) Secretary Silvestre Bello III offered her to join the repatriation of OFWs in the area. Bello also agreed with the OFW that the Middle Eastern country is currently facing financial problems amid the health and the devastating blast.
The Labor chief ensured Hilig of safe return to her hometown in Padre Burgos, Quezon province as well as some financial assistance. Like Aileen, Filipinos working abroad can avail of DOLE-AKAP Cash Assistance for OFWs. This program — initiated by Pres Rodrigo Duterte — provides USD200.00 or PHP10,000.00 financial assistance "to displaced Land-based and Sea-based Filipino workers" because of COVID-19.
READ: New KDR Public Service Show Launched to Help People During the Covid-19 Pandemic
Kuya Daniel also offered assistance once Aileen touched the Philippine soil.
IN the latter part of the program UNTV News and Rescue Correspondent Benedict Galazan reported the delivery of a mobile street food stall in Quezon City. It consists of a bicycle with a sidecar that could serve as a street food stand. Bagong Henerasyon Partylist Rep. Bernadette Herrera spearheads this livelihood assistance project, along with UNTV and other partner groups, especially Members of Church of God International, headed by Bro Eli Soriano.
NCR, Nearby Areas Back to MECQ — August 3 Roundup
The August 3 episode of Serbisyong Bayanihan aired on the eve of the reimposition of Modified Enhanced Community Quarantine (MECQ). Kuya Daniel started the program with a brief discussion about the start of the school year 2020 this month. He laid down the issues and challenges on modes of learning as the country reverted to the stricter quarantine measure.
The program was able to respond to certain individuals and groups that require need different types of aid. First of whom was Rommel Valeros Coordinator, Brigada Eskwela, Batobalani Elem. School, Camarines Norte. He said the school needs paper, inks, and printers for modules as well as face masks and face shields for teachers and school employees. Kuya Daniel requested Bro Rommel Gatchalian – President Millennial Riders Club, PH to deliver the requested items.
Here are other people who requested help from Serbisyong Bayanihan:
Carcar, Cebu resident Maria Rica Unabla requested for financial assistance as her husband has just resumed work. She told Kuya Daniel that the debt of her household is piling up. Bro Mike and Sis Joy Agullo volunteered to provide the monetary and other needs of Maria Rica.
Myra Baltazar of Brgy Pagibig sa Nayon, Quezon City would receive Bagong Henerasyon Partylist Rep Herrera's livelihood assistance after asking for a new source of income because she lost employment due to the pandemic.  
Bro Alfred Guevarra, a Kagawad (Councilor) of Brgy Sto Nino Area 22, Dist. 4, Quezon City requested aid on behalf of 36 families who need relief goods during the MECQ.
On the other hand, Gertrudes Sumabat of Brgy Holy Spirit, Quezon City reported that her household and neighbors had received the relief goods distributed by the TV program.
Kuya Daniel wrapped up the episode by endorsing backyard gardening for self-sustenance during this health crisis. He cited the efforts carried out by UNTV employees who grew plants on makeshift pots made of plastic bottles.
Running since the onset of the COVID-19 pandemic in the Philippines, Serbisyong Bayanihan provides help to anyone regardless of religious, racial, or political affiliation. The assistance, whether in cash or goods, comes from different chapters of Members Church of God International (MCGI), headed by Bro Eli Soriano.
Written by Anthony Chua