Kuya Daniel Razon Leads Groundbreaking for New UNTV Iconic Broadcast Center
The Philippines' Public Service Channel, UNTV 37, held the groundbreaking ceremony for the construction of its new, iconic broadcast center in Quezon City, last June 27, this year.
Chairman and CEO of Breakthrough and Milestones Productions International (BMPI), Kuya Daniel Razon and Quezon City Mayor Herbert Bautista led the milestone event. BMPI is the content provider for UNTV network.
The groundbreaking ceremony was held during UNTV's celebration of its 10th anniversary under the helm of Kuya Daniel. The anniversary theme is "UNTV Big 10: Bigger, Better, Broader," which highlighted "Caring for the Elderly" as a new public service advocacy of the station.
The UNTV Broadcast Center, designed to be 18 storeys high, will house state-of-the-art facilities that are expected to widen the scope of broadcast and public service projects introduced by Kuya Daniel.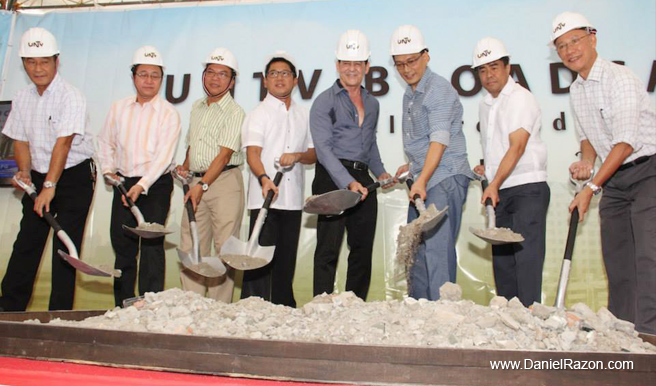 According to Kuya Daniel, the UNTV Broadcast Center is a realization of the advocacy of the network to continuously extend assistance to fellowmen.
"UNTV is open to all. It doesn't discriminate against religion. It don't discriminate aganst color or ethnicity. It is open to all who are in need of help. And it always ready to serve," the veteran broadcaster said in an interview during the event.
A modern broadcast studio, an auditorium with 300-siting capacity and a full-sized basketball court will just be among the numerous ammenities of the building.
A miniature replica of the new UNTV Building, soon to rise and shine in Quezon City, God willing. #UNTVBig10 pic.twitter.com/sPPmhbp9vD
— UNTV Channel 37 (@UNTVweb)
June 26, 2014
Three disks for the floating AM and FM radio stations, a restaurant and a 360-degree observatory tower will rest on top of the skyscraper.
The structure is dubbed as an iconic building that will rise along Epifanio Delos Santos Avenue or commonly known as EDSA because of its unique architecture.
Mayor Bautista said that the UNTV Broadcast Center will surely become a tourist attraction because of its appearance.
Furthermore, the Quezon City Mayor shared that UNTV has done so much (for the good of the masses) in the decade it existed in the broadcast industry (under the leadership of Kuya Daniel).
"In a decade's time of UNTV, the network has reached a long way," Mayor Bautista said, wishing that, "Kaka (Kuya Daniel) and the leadership of UNTV last 10-more fold decades … so that they can help more people."
The expected completion of the UNTV broadcast center is on 2016.
Written by Gladys Mae Rono